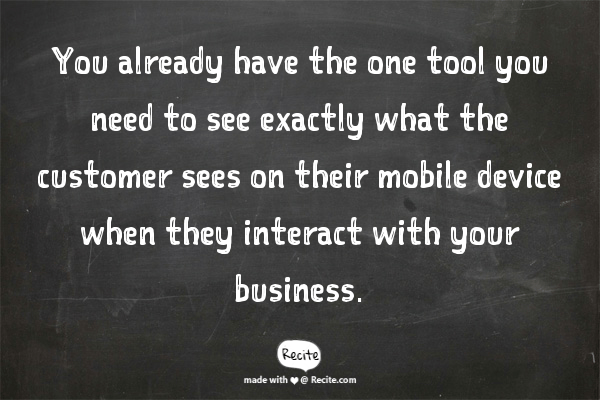 Now that the percentage of Americans who own a mobile device outranks those that don't, entrepreneurs can integrate mobile as a business strategy to cut costs, increase efficiency, improve customer experience, and deepen customer relationships. Here's how.
 Confirm maps listings are accurate. Forrester predicts that a businesses' ability to connect with customers during relevant mobile "moments" will dictate competitive advantage going forward. Confirm the accuracy of your businesses' online listing with all  the possible location based search engines (like Google and Yelp) to make sure your locations, hours of operation and contact numbers are accurate. Ideally, your contact information will also be optimized for mobile. Customers should be able to contact you directly from their mobile device without having to key in a phone number, or email address.
Design your website for mobile relevance. A mobile-centric business strategy isn't just about whether your website accommodates a mobile user's smaller screen.  Analyze your website and social media metrics to understand which devices your customers use, and which pages they visit on them. Consider how mobile use impacts your customer experience, and potentially, hinders your acquisition rates. If your mobile users have low conversion rates, for example, it may be an indication that your current site makes it difficult to make a mobile purchase. The issue can be due a host of issues, including slow load times, inappropriate design elements on your web page, or your site's configuration. All can be solved for–but not until you know it's a problem.
Your promotions can all be adapted for mobile,too. Just keep one word in mind: Simplicity. If you send customers a promotion via email but then take them to a forced log in page in once they've clicked, it's not conducive to mobile users (most of whom use their device to check email). If you showcase a product on social media (another channel primarily visited with a mobile device) but don't allow a seamless transactional experience that empowers the mobile user to purchase it, your efforts are for naught.
Mobile as a business strategy is one of the simplest improvements you can make; you already have the one tool you need to see exactly what the customer sees on their mobile device! Stress test all of the touch points on your own mobile devices. Is the experience seamless throughout. If it gets clunky at certain points, why–and how long did it take you to get frustrated?  Does your mobile site and purchase flow stack up to the functionality offered by major brands? If not, what's lacking–and how can you address it? Be honest: Would you be happy with every aspect of the interaction with your business if you were a customer on a mobile device?  If the answer is no, make a list of where you can improve–and make those adjustments part of your business strategy.
Make your business model mobile. Using mobile as part of  a business strategy means taking advantage of mobile tools that empower you to connect with customers exactly when they're looking for a business like yours. That means during search, when they're ready to purchase, and when they're moved to leave a review of their experience with your business. How can you replace current processes in your business model with a mobile alternative, for a better experience?  Replace traditional checkout lines (and their wait times) with mobile point of sale devices that allow your sales team to "meet" customers the moment they're ready to checkout. Deliver promotions and coupons to mobile users's devices so they can redeem them on the spot, without having to remember a coupon or a loyalty card. If you have a physical storefront, how might you expand your market presence and reach with a mobile version of your business that you can leverage to attend events, showcase your core product offering outside of your typical geographic boundaries, and bring your business to your customers?