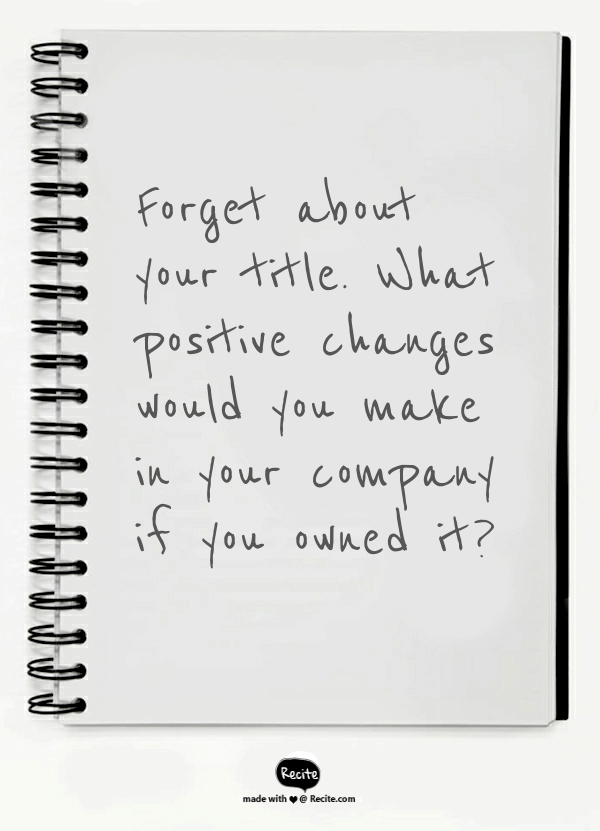 The ability to command a respectable salary, influence positive social change, or bring new ideas to a stale or conservative industry can draw you to a profession in the beginning. With any luck, it will keep you engaged for years.
But just as your life changes, so do your goals and interests. But when you find that your interests have changed to the extent that you've lost all passion for your work, it can be the ultimate career test–especially if you've spent several years in one industry, have no desire to learn the ins and outs of a new one, or are bound to your profession by the proverbial golden handcuffs.
The great news about feeling "meh" about your career?  Your relationship with your profession and the impact it has on your emotions and your satisfaction with life can be revived–just like your many other relationships that ebb and flow throughout life.
The key to acing this career test and coming out better for it? Be open to honestly identifying what's not working, what is, why– what you're willing to change in order to proactively reshape your professional destiny.
Here's how.
Get out of your box (or cube). You may have mastered the skills outlined in your job description, but that's a gift and a curse. When you can perform your job by rote, you go on auto-pilot. You disengage. You stop looking for new ways to solve problems. You probably get a little lazy. Most importantly, you stop being challenged. (That's required in order to grow, by the way).
Instead of going through the motions or coming to the conclusion that the only solution is to find a new job, consider how you can rebrand yourself as a resource in your organization–and in your mind. Forget about what you "do" based on your title, and think of yourself as a consultant. Better yet, what if you were the owner of your company? What positive changes could you make? How would you eliminate waste and redundancy? How would you make the group more efficient? How would you add more value?
Once you've given that some thought, approach your boss. (You don't have to share the imaginary consultant exercise). Tell your boss you're willing to assist with "overflow" needs because you crave the opportunity to learn through new experiences, and think you can accomplish even more than you currently do.
Likewise, if a team is struggling to complete a project, offer your assistance—even if the task is way out of your comfort zone. Broadening your exposure makes you inherently more valuable to your company. More importantly, you feel a renewed sense of challenge and purpose. As you interact with new teams, you'll likely build and deepen relationships with new contacts as well. Through your new connections, you may develop a whole new perspective about your job, and your company.
Take on interesting projects with no strings attached.  When you begin your career, money has a way of being very important–and with good reason: You've probably got student loan debts to pay, new bills that come with living as a grown up, and potentially, longer term financial goals like buying a home, getting married, or starting a family.
Though getting paid what you're worth is never completely irrelevant, money only motivates for so long. Once you've conquered some of those early adulthood milestones and been in the working world for a few years, a high salary isn't enough to keep you moving forward. When that happens, it may be worth taking on extra professional challenges, even when there's no indication that they'll boost your paycheck or trigger a promotion. Instead, consider it an investment in your energy, and your happiness.
No idea where to start, or how to get involved? Lauren Still of Careerevolution Group recommends approaching a mentor to honestly discuss your goals. Be very specific with a statement like 'I aspire to be [fill in the blank] in the future. What would I need to achieve/do/demonstrate in order to be seen as a potential candidate?'" When you can leverage the insight of a superior who has "been" where you wish to go, you can be strategic about the extra work you take on, and know your extra effort has a purpose.
Measure your value. Tracking individual progress is an important aspect to setting and reaching goals, whether you're training for a marathon, gunning for a promotion or saving for retirement. But Michelle Maratto Itkowitz a partner at the boutique law firm Itkowitz PLLC says that when job burnout is an issue, it's also important to identify how your efforts relate to the "bigger picture" of your workplace. What's the big corporate agenda for the year? What's the focus of the executive team? What are the "hot" initiatives? Now consider how every one of your actions contribute to one of those areas. If you don't see that it does, there may be opportunity to improve processes, adjust your focus, or take on different work.
Not only will the data help you make sense of those less than challenging but necessary tasks that are part of your job, it can help you determine if it's worth attending certain networking functions, or joining in on corporate volunteer opportunities and committees so you can become involved with the company goals and initiatives you find most exciting.