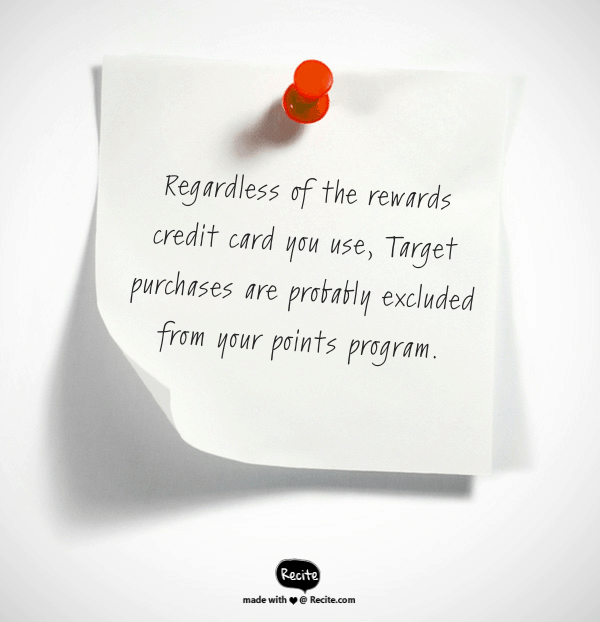 If you shop at Target frequently, you've likely been offered the option to save 5% on your purchase that day—and every other time you shop at Target—if you apply for and open a Target RED Card. Typically, there's one answer to stick to when you're offered a store-branded credit card: "No thanks."
Why? Because store-branded cards generally come with more baggage than they're worth, including high interest rates, low credit lines, and few benefits (other than discounts designed to tempt you to spend on things you may not really need). If you're overzealous with offers to apply for store credit cards, you could even lower your credit score.  (Too many "hard" credit inquiries–like those that take place when a creditor performs an "instant credit" check– can lead creditors to perceive you're desperate for cash).
On the other hand, the facts are the facts. Regardless of the rewards credit card you use the most, Target purchases are probably excluded from points programs—even when your credit card touts the ability to earn 5% on department store, or grocery store purchases. Don't believe me? Read the fine print on your rewards cards' program details.
To level set, there are two types of Target RED Cards. One is a credit card, the other is a debit card. If you don't have complete confidence that you'll pay your balance in full each month, go with the debit card. You'll still save 5% on your purchases, and the money comes right out of your checking account. Otherwise, I advise the credit card. Why? Because credit cards offer more protection against fraud. By law, your liability is only $50 if your credit card is lost or stolen or otherwise compromised, and charges are made on it without your authorization. Though you have some protections with debit cards, the laws are far less robust.
Regardless of which you choose, owning a Target RED Card may mean that you'll at least save 5% on your purchases, that you won't be rewarded for  otherwise. Is the Target RED Card the one store-specific offer you should say "yes" to? I spoke to some RED cardholders for their take on the benefits, and drawbacks of this card.
Susanne Whited of Colorado Springs, Colorado has been a cardholder since 2011. She says that though the RED card sends her special offers in the mail, she doesn't usually use them (to avoid temptation). She pays her card in full each month to avoid interest rate charges—which is key, given that they're nearly 23%. As a result, she really does save 5%, and generally buys sale items to maximize her savings. Though she does say she is mindful not to overspend, she admits that she doesn't shop around like she once did, because of her Target RED card.   "My biggest issue is that I frequently get $5-$20 gift cards with sale purchases and I do not want to redeem them because I do not get 5% off. My solution? Now everyone gets Target gift cards as gifts from me," says Whited.
Though Hilary Kline has been a Target RED cardholder for just a few months, she has equally good things to report: "For someone who shops at Target regularly and pretty often (sometimes 2-3 times a week), getting the card meant that I would be saving money. For each purchase, you get 5% off – even when you make a big purchase."
Like Whited, she says she does use the card more than she
normally would because she knows she is saving money—but she also uses the "Cartwheel" app on her phone to save money in tandem.
Emily Hawkins has had the Target RED card for two years. Though she says the discounts she receives as a cardholder "are not huge" compared to other branded cards which send high value coupons and the ability to earn rewards points for purchases, her favorite part about the card is that it allows free shipping on all target.com purchases with no minimum. In fact, she says she'd recommend the card for the online benefits alone.
I could go on, and I think it's worth sharing that of the ten Target cardholders I spoke to, not a one had a complaint.
Personally, I'm sold. How about you? Will you get a Target RED card?