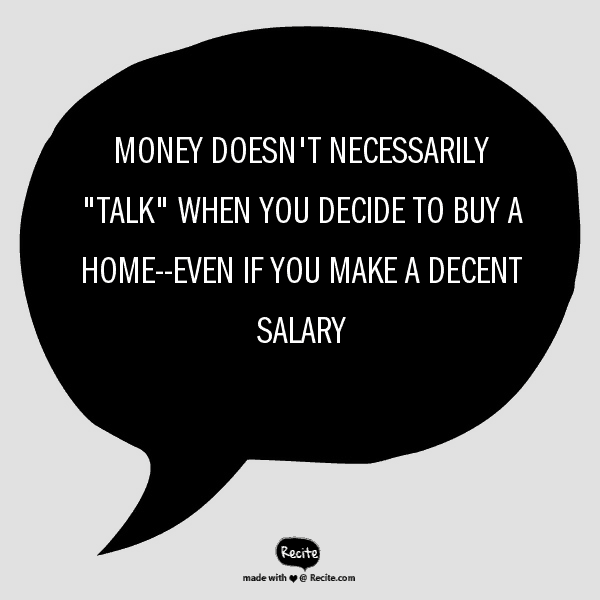 Deciding you're ready to buy a house is one of the bigger life decisions you'll make. It's a big commitment financially, and emotionally. When you buy a home, you're basically deciding that a particular lifestyle a home provides you with now is one you'll still be happy with years later.
If you want to avoid paying private mortgage insurance (PMI) and want the freedom to choose from a variety of mortgage lenders (and the rates and fees their loans entail) buying a home usually means handing over a significant chunk of cash–in addition to signing away your first born at closing. (I kid, I kid).
But money doesn't necessarily "talk" when you decide to buy a home–even if you make a decent salary, or have quite a bit of money saved.  How you've managed your credit, assets, and debts up to this point determines your loan options, and how much your home really costs you once it's all said and done.
The more you understand about the mortgage process, the less daunting your role as homebuyer becomes. Here are some important "to do list items" anyone considering buying a home should take–before you start scouring realtor.com, Zillow, and MLS sites.
Get your credit in shape. You may want to buy a home. But do your credit score and credit history agree? Before you decide now's the time to be a homeowner, pull a copy of your free credit report at annualcreditreport.com. If your spouse will be listed on the loan, pull their credit report, too.
What are you looking for once you do get the credit report? Aside from making sure that basic information like your social security, address and account information it includes is accurate, take note of your loan balances — including those associated with credit cards you pay in full by the statement due date. Lenders are required to evaluate a mortgage applicant's ability to pay based on a variety of factors: Monthly income, debt balances, and the potential loan obligation. The less debt reported on your credit history when a mortgage lender pulls your credit report the better.
Even if you pay your credit cards in full each month, check to confirm that a $0 credit balance is reflected on your credit report. If you don't pay your credit card balances by the statement close date–which is about three weeks earlier than the payment due date–the balance on your credit report may be much higher than you think, and can work against you in terms of how much debt it appears you have.
Look for accounts turned to collections.  An account that has gone to collections doesn't look good on your report. It means that you had a debt you didn't pay, and the lender wrote the debt off as a result. But paying collections accounts now won't instantly solve the problem, or make a lender feel better about approving you for a mortgage. In fact, trying to pay an old collection balance to make it go away could make it worse, in terms of your credit score.  "If you have old collections on your accounts (that are at least three years old), paying them off can re-date this derogatory account, making an old collection appear to be much more recent," says Brian Murphy, senior mortgage planner at Front Range Mortgage, LLC.
Speak with lenders.  Yes, homes are flying off the market in some areas. If you don't strike while the iron is hot and make an offer when find a home you love, you might lose it to another home buyer.  But those points are moot if you can't get a home mortgage, and you're not ready to pay for the home in cash. Before you start devoting your weekend to open houses, or contact a realtor, call a mortgage lender to see if you can get prequalified, and if so, for what amount of home based on your down payment. The process usually doesn't require more than a 15-minute phone conversation, and you don't have to commit to the lender. Though being "preapproved" doesn't guarantee the lender will underwrite the loan, the extra step will let you know whether you can obtain a mortgage based on your credit, debt, and income, and if so, for what amount.
Additionally, your lender can suggest appropriate loan programs for you, based on factors like your credit, the down payment you want to put forth, and any gift funds you may intend to put toward the purchase. Speak to several lenders to understand your loan options, comparing factors like rates and loan terms.
Gather your paperwork. Once you make an offer on a home and it's accepted, you'll need to find the mortgage lender you'll commit to, and complete a formal loan application.  Being approved for a loan involves a lot of paperwork, and quite a bit of back and forth communication with your mortgage lender's office. You'll make your life easier by having proof of income, tax records, financial statements and copies of your driver's license and social security cards ready to provide electronically.
Be financially predictable. Do not move, change jobs, open new credit cards, close old credit accounts, buy a new car, or co-sign for a loan, when you are in the process of applying for a mortgage–or even, in the months following the closing of the loan.
If you need to transfer money between accounts that you'll use for closing costs or your down payment, Murphy says to consult your loan officer before you complete the transfer so that it doesn't create any unintended red flags. If it does, they'll come back to you asking for more documentation, and it could delay your closing. If you receive any funds outside of your typical income during underwriting, be prepared to show proof. "Any other irregular deposit (including gifts, or even cash from a garage sale) may need to be documented by the underwriter for loan approval," says Murphy.