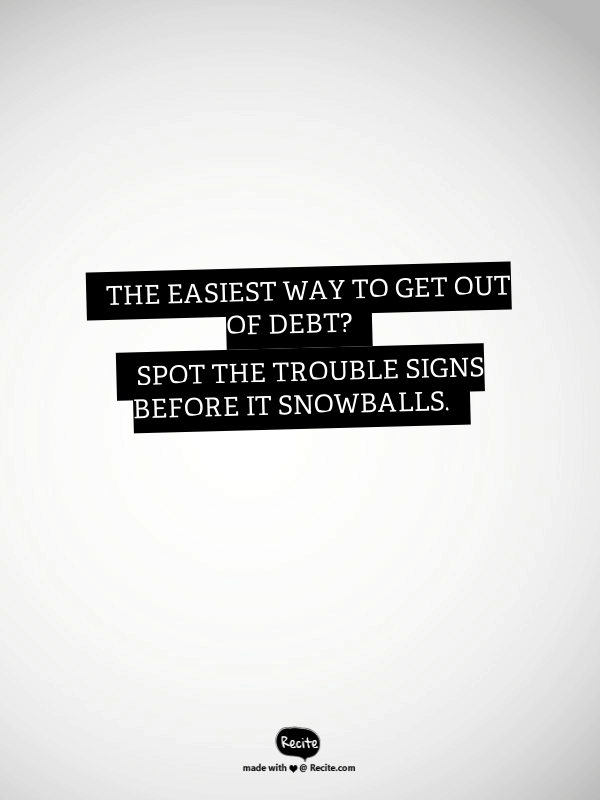 Most people have some kind of debt–whether on a credit card, student loans, an auto loan, or a mortgage. And not all of that debt is a problem. But when your debt climbs to a point that far outweighs your income, starts to lower your credit score,  puts you in jeopardy of missing monthly payments and keeps you up at night, it becomes a problem that's tough to solve.
Yes, there are debt consolidation options, private loans, and other financing options to get out of debt, but unless you've got a really generous neighbor willing to lend you some cash, no debt relief option that comes through a third party is free.
So what's the easiest way to get out of debt? Spot the trouble signs before it snowballs. Here are five surefire signs you're in the debt danger zone–and how to manage your growing credit card balances before it's too late.
Debt Warning #1: You've taken advantage of low interest balance transfer offers–but barely made a dent in your credit card debt. Low interest balance transfers offers aren't inherently bad. They can help you eliminate credit card debt faster than you would by making monthly payments on a high interest rate credit card, and probably at a lower cost. But for that low interest rate to work to your advantage, you must commit to being aggressive about your debt payoff strategy.  That's because most low interest balance transfer offers are valid for a limited time only. During the low interest rate time period, the monthly payments you make  will help you gain some momentum in paying off your credit card debt–but you have to make as big a payment as you can afford during that time period. Otherwise,  most of the credit card balance you transferred will remain when the low interest period ends. It could be subject to  as much interest (or more) than it was you were before you made the transfer–and you'll stay on the credit card debt treadmill.
Debt Warning #2: You spend about 20% of your income on debt. Whip out your calculator and log in to your online banking: What's 20% of your monthly take home pay? Does your non-housing related debt (like credit card monthly payments, car and student loans) add up to more than that number? If so, start managing your debt before it's too late. That means pay way more than the minimum on your highest interest rate debts, limit your monthly spending–or find a way to make more money. It's really that simple.
Debt Warning #3: You're using  more than 30% of your available credit. Your credit card company has given you a $10,000 credit line; why not use it all? I've got plenty of reasons. For starters, your credit line and what you can afford are two very different things. According to MyFico, your credit balance compared to available credit shouldn't exceed 30%. For a cardholder with a $5,000 card limit, for example, that means should never charge more than $1,500–even if you pay it off in full at the end of the month.  Once you use more than 30% of your credit, your credit score could be lowered, and you may find competitive loans harder to come by. Basically, it tells lenders you're living beyond your means, and you're a greater risk. Do the math, see where you stand and if you're over the 30% limit, change your habits.  To boost your credit score, pay your creditors before the statement close date; your lower balance will get reported to the credit bureaus. Then, stop using credit for new purchases altogether until you've paid down the balance. Not only will it "self correct" any tendencies to overspend, you'll make more progress in getting your debt utilization back in check.
Debt Warning #4: Your credit card balance is bigger than the one in your savings account. Yes, deposit interest rates suck. But your savings account isn't a place to make money; it's a place to invest in the uncertainty of your future. If your debt is greater than what you have in a liquid savings account, it's time to spend a little less and save more.
Debt Warning #5: You won't look your debt in the eye. Don't want to open your credit card statements when they arrive? Avoid a budget or adding the total cost of your debt like the plague? I'm willing to bet you have too much debt. Like most things in life, we tend to know more than we think. You know when you're overextended. Forget about what brands are in your closet, or the car you drive compared to your friends. Money should not keep you up at night. If it does, take control. Figure out what you owe, what you own, and what you can really afford in order to feel good about your financial security. What you see might not be a positive picture at first. That's okay. It takes small steps to make big progress. The more steps you take in the right direction, the further you move from the wrong one.