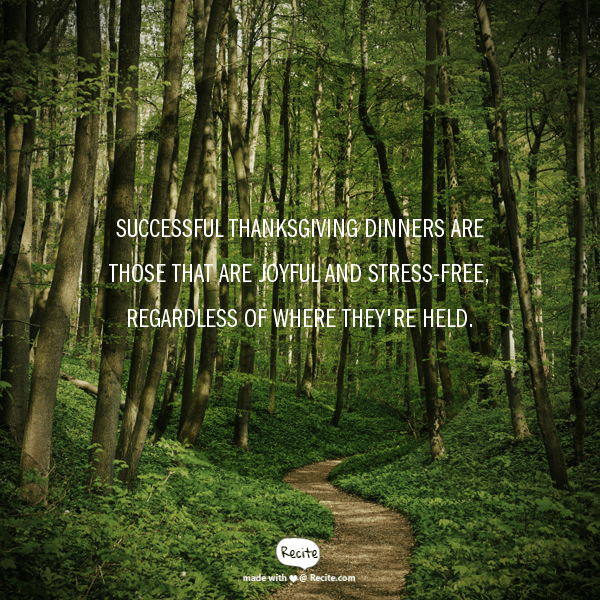 Ready to kick back and let someone else make thanksgiving dinner this year?  You're in good company, according to the National Restaurant Association, which estimates more than 14 million people choose to eat at restaurants on Thanksgiving. Here are some ways to ensure your thanksgiving dinner remains enjoyable, even when it's spent in the "professional" dining room of a restaurant.
Allow for family input. Because Thanksgiving tends to bring about memories and emotional attachments to tradition, etiquette expert and author Thomas P. Farley (Mister Manners) says to have the conversation about dining out for Thanksgiving well before Thursday. Discuss the opinions and preferences everyone has about the idea itself, and the style and feel of the restaurant, the location, and the price.
Respect family dynamics. To ensure a tension-free Thanksgiving dinner at a restaurant, lifestyle expert Limor Suss says it's important to let everyone choose their own spots in terms of where to sit, and when and how to interact. Farley says restaurants that offer private rooms can add to a relaxed holiday vibe, and allow guests and small children plenty of space to relax, chatter, and roam.
 Be open to options. At a loss for where to celebrate thanksgiving dinner?  Open Table makes it simple to search availability by date, price, neighborhood, and type of food served. As an added bonus, you may even earn some valuable points (aka, cash) through your Open Table account for reserving space for a large group.  But, if you're willing to search a little further than your computer for your thanksgiving dinner locale, remember that small family-owned local venues may be highly accommodating and welcoming to your group (provided they have advance notice of your plans) even if they don't advertise thanksgiving options.
Agree on the experience in advance. Successful thanksgiving dinners are those that are joyful and stress-free–regardless of where they're held, or who cooks. Once you decide on the type of food everyone will enjoy, look for places that allow people to serve themselves, or those that will leave dishes on the table for a "family style" dining experience. You can also maintain the hometown feel of your thanksgiving dinner out if someone who lives near the restaurant is willing to host after dinner dessert, coffee and drinks (for those who want to attend).
Don't let money sour your Turkey Day. Money isn't often a part of thanksgiving dinner conversations when hosted at a person's home–but it can cost just as much to make your own turkey and sides as it does to outsource it when your consider food costs, time, energy-and stress. If possible, give each family who will be a part of your thanksgiving dinner out their total cost owed–including what each guest/family will pay for a generous gratuity, and beverage service–well before the dinner begins. If some guests drink alcohol and others don't, let guests pay for their libations with cash at the restaurant's bar to avoid confusion.  In this day and age, it's simple to transfer funds electronically (whether via Paypal, electronic bank transfer, or check) so no one feels like they've been tasked with the unpleasant job of settling a large bill after dinner, or collecting money on turkey day.